Helen O'Grady Drama Workshop - 2022
Carrant Brook Willow Sculpture
Wear Red Day 2022 - Show Racism the Red Card
House Point Celebration Day July 2022
Medieval Festival Parade July 2022
Platinum Jubilee Time Capsule June 2022
A Midsummer Night's Dream June 2022
Dancing through the decades! June 2022
Queen's Platinum Jubilee 'Street Party' June 2022
House Sports Day May 2022
Finally, the long awaited return of one of our favourite events. What an absolutely amazing experience it was.
The Great Dried Pea Hunt April 2022
World Book Day March 2022
Outdoor Christmas Carol Service 2021
Take a look at the videos below to see how the event went.
Christmas Virtual Nativity 2021
Children in Need
November 2021
Harvest Festival Oct. 2021
Take a look at our Year 4 Harvest Performance
Poetry Recitation Competition
held on 7 October 2021 – National Poetry Day
After triumphing in their year group round, the following pupils each represented their House reciting their way towards the winning cup. The winners in each year are in bold:
Year 3: Mihaela, Oliwia and Koda
Year 4: Olivia, Deana and Adam
Year 5: Jack, Bonnie and Ryan
Year 6: Henry, Kai and Penelope
The overall winner taking the ownership
of the cup is Ruby!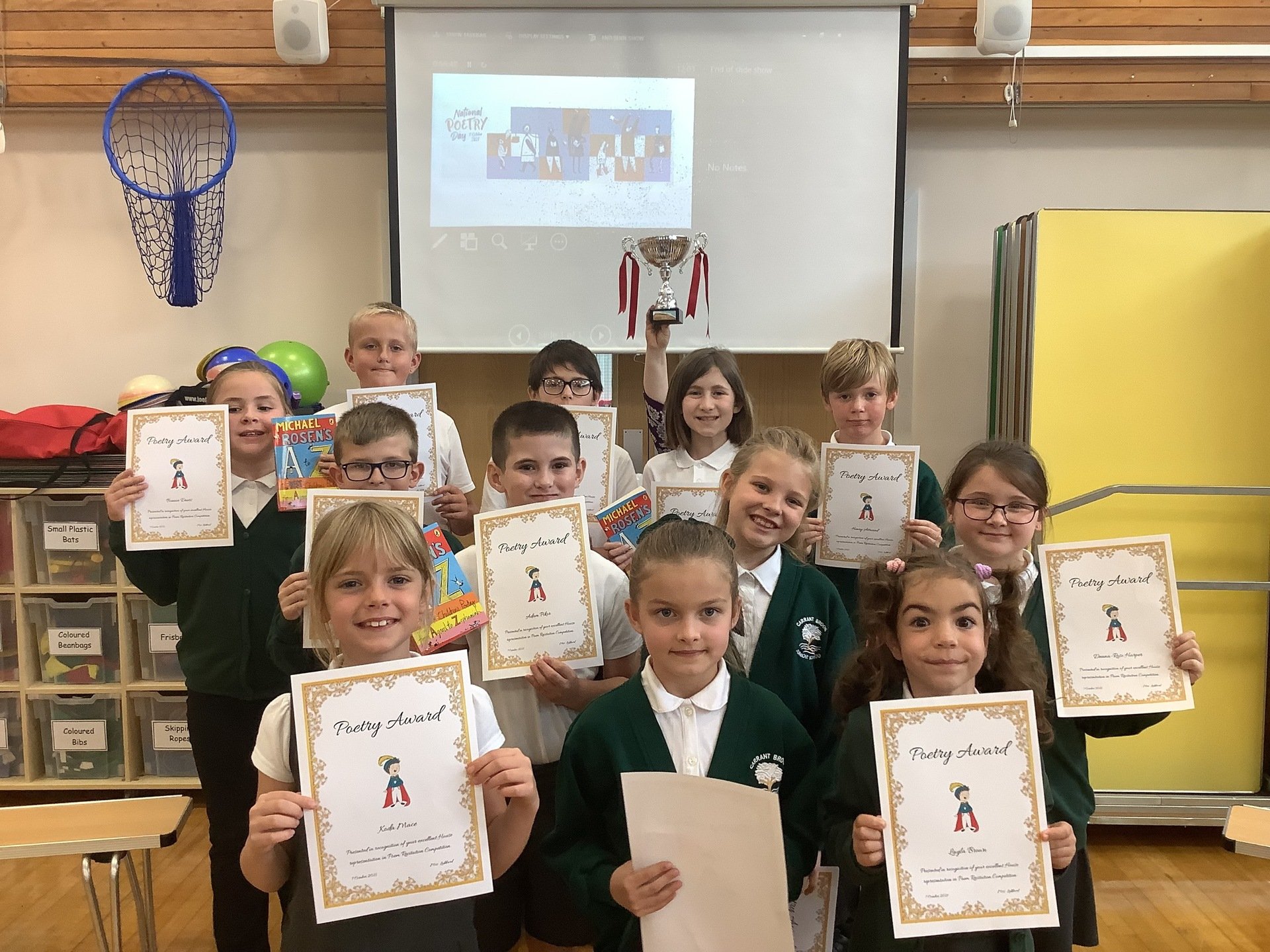 Mrs Green

'Braving The Shave'

September 2021
Macmillian Cancer Support September 2021
Staff & Y6 Leavers say goodbye July 2021
Y6 - Look how we've grown! July 2021
Y6 - A trip down Memory Lane July 2021
Y6 - All Sit Down! July 2021
House

Point

Celebration Day July 2021
Individual House Sports Challenges May 2021
Heart Heroes Fund Raiser May 2021
The Great Easter Pea Hunt
March 2021
'A view from my window' Lockdown Art Competition
January 2021
Carrant Brook's 2020 Entry for Strictly Come Dancing
Christmas Virtual Nativity December 2020
We Wish You A Merry Christmas By Birch
Rudolph The Red Nose Reindeer By Sycamore
It Was On A Starry Night By Beech & Oak
Rockin' Around The Christmas Tree By Willow
Children in Need November 2020
Official Opening Of Our Garden Area by Rita Savory 11/11/20
Year 3 Field Trip October 2020
Harvest Festival October 2020
Home Learning Poetry Challenge
From March 2020
Skipping Workshop
March 2020
World Book Day
March 2020
See the slide show below for the children's favourite books.
READING REVOLUTION!
SHARE A MILLION STORIES
Mini Marines
January 2020